so we thought we would bring out a little split EP whilst we're waiting to finish up our album, you can find it here http://roverrr.bandcamp.com/album/stuck-together , share with ur friends!
also we want to say a huge thanks to the people in Groningen, Utrecht, Amsterdam, Aachen and Wuppertal in the Netherlands and Germany for putting us up and letting us play some really sweet shows in ur squats and social centres, we had a great time seeing what amazin things people are up to. Heres a pic from our show at the Azed (not sure of the spelling…) in Wuppertal where they were having a benefit for the Hambach Forest 3.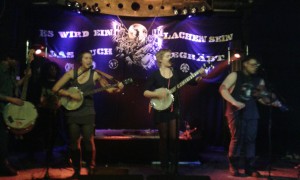 we also are in the beginning stages of planning a tour, we have dates to fill in the UK, Netherlands, Belgium, France, Catalunya and Spain, so if anyone feels like having us around give us a message! also if you feel like driving a bunch of smelly loud peeps around for 2 months then let us know, otherwise it might turn out to be a complete mess…
so keep eyes open in the next month for exciting new developments!