Some of us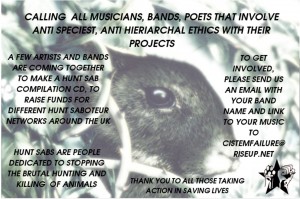 people from within the folk punk network of europe have decided to get together to put out a benefit compilation CD of music, poetry and spoken word to raise money for different Hunt Saboteur groups around the UK. We want to include many different genres of music/poetry, as long as it is something that confronts the situation of animal exploitation, human supremacy, hieriarchy, destruction of the earth and other consequences of speciesm at the hands of humans. Anyone is welcome to submit their music, and it is not exclusive to only english speaking musicians or poets.
At the moment, the hunts are in full action, with another couple of months to go until the end of the season of brutality. We would like to release a CD over the summer, which realistically means that the hunt sab groups can use the funds for the beginning of the next season, which starts in November.
Of course this is not a little project and we can use some help, we are looking for art work, people who are skilled at screen printing so we can make cd covers and maybe some patches. maybe you can have the cd in your distro, or promote the project in some way. We feel like there are so much skills within the DIY scene or community, lets all work together so the people that are confronting the hunt, and are out there in the weekends have the stuff they need to continue.
If it looks like this idea is taking flight we are also considering to put together a hunt sab benefit tour this summer. So if you sab, or put on shows, and would like to put on a benefit for your local sab group please contact us so we can conspire some more. We would like to go on tour with the then newly released cd, with artists that are on the cd, and have time and motivation to do so. Lets build more of a network of support that can raise awareness about hunting, about human supremacy and lets use our talents together to do something against it. Also, lets piss of some rich assholes!
So tell your friends, share this post, get in contact, send us your tracks, lets start organizing!